Working Towards Conflict Free
If you're looking for jewellery that lasts, 10k gold should be your metal of choice. Gold is one of the most valuable resources in the world, and is very durable. The vast majority of gold jewellery is crafted from an alloy; this means pure gold (24k) is blended with other metals. This helps the gold hold its shape, as it's quite 'bendy' on its own. It's also how we achieve those gorgeous alternate shades, like rose gold.

We are working towards 100% of our gold being responsibly sourced from suppliers listed on London Bullion Market (LBMA) or Responsible Mineral Initiative (RMI) or Dubai Multi Commodities Centre (DMCC) or Responsible Jewellery Council
(Chain of Custody). This means all our gold will not have contributed to any unlawful conflict. We are working closely with our suppliers to make this a reality.
Gold Plated vs Solid Gold
The difference between our 10k gold pieces and our gold-plated jewellery is the amount of solid gold used. While 10k gold jewellery is made of a gold alloy that is either consistent throughout the piece or has a slightly hollow centre, gold-plated pieces are covered with a thin film of gold over a base metal of sterling silver.
Choosing a gold plated piece over a solid gold piece allows you to get the same look for much less. But if you prefer to invest in your pieces and opt for 10k gold, your pieces will hold their colour and won't fade over time.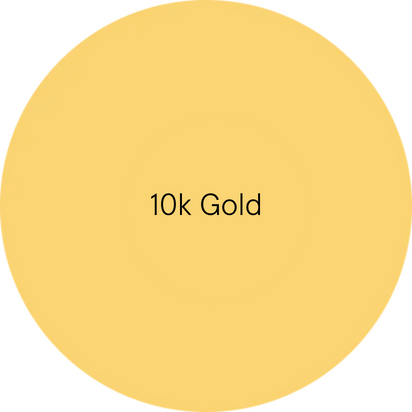 How to Clean 18k Fine Gold Plated Jewellery
Use a Polishing Cloth
Give your silver pieces a gentle polish now and then with a jewellery cloth to remove dust and unveil their brightest shine. You can also occasionally use a silver jewellery cleaner.
Wash Gently
For an extra clean, wash your sterling silver in a soapy water bath. A mild detergent will remove excess grime and oil which can build up over time as you wear your jewels. Make sure to rinse and dry your jewellery afterwards.
Store Safely
After cleaning, store your jewellery in a safe place to keep them looking their best.
What NOT to Do
Avoid Harsh Chemicals
Don't use any harsh chemicals to clean your gold jewellery (household cleaners have no place here!).
Avoid Abrasive Bristles
You should only polish with a very soft cloth, and when giving your gold jewellery a bath, use your fingers. Don't use anything with abrasive bristles.
Shop 10k Gold Jewellery by Category
Want to know more?
Our customer service team is always here to help. If you have any questions, please contact us.