High Quality Micron Plating Process
Our 18k gold plated pieces are of the highest quality but also affordable. To make them, we start with a base of 925 Sterling Silver, then build up layers of 18k gold using our advanced Micron Plating process. Our jewellers gently meld micro-layers of real gold onto a genuine sterling silver core. We steer clear of low-quality base metals (like brass and other alloys), so you know your piece is precious through and through. Gold plated is more affordable than solid when it comes to gold jewellery, as less pure gold goes into the piece - so you get the luxe look of solid gold for much less.
Gold Plated vs Solid Gold
The difference between our 10k gold pieces and our gold-plated jewellery is the amount of solid gold used. While 10k gold jewellery is made of a gold alloy that is either consistent throughout the piece or has a slightly hollow centre, gold-plated pieces are covered with a thin film of gold over a base metal of sterling silver.
Choosing a gold plated piece over a solid gold piece allows you to get the same look for much less. But if you prefer to invest in your pieces and opt for 10ct gold, your pieces will hold their colour and won't fade over time.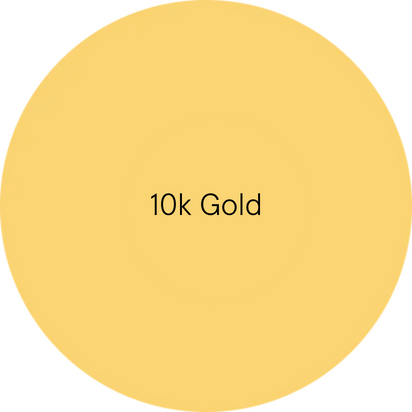 How to Clean 18k Fine Gold Plated Jewellery
Use a Polishing Cloth
Give your silver pieces a gentle polish now and then with a jewellery cloth to remove dust and unveil their brightest shine. You can also occasionally use a silver jewellery cleaner.
Wash Gently
For an extra clean, wash your sterling silver in a soapy water bath. A mild detergent will remove excess grime and oil which can build up over time as you wear your jewels. Make sure to rinse and dry your jewellery afterwards.
Store Safely
After cleaning, store your jewellery in a safe place to keep them looking their best.
What NOT to Do
Avoid Abrasive Bristles
Don't use any rough brushes with abrasive bristles to polish your silver jewellery - a soft jewellery cleaning cloth is best.

Avoid Harsh Chemicals
Take off your silver rings or bangles, or cover them up with protective gloves before using any household cleaners or harsh chemicals.
Want to know more?
Our customer service team is always here to help. If you have any questions, please contact us.