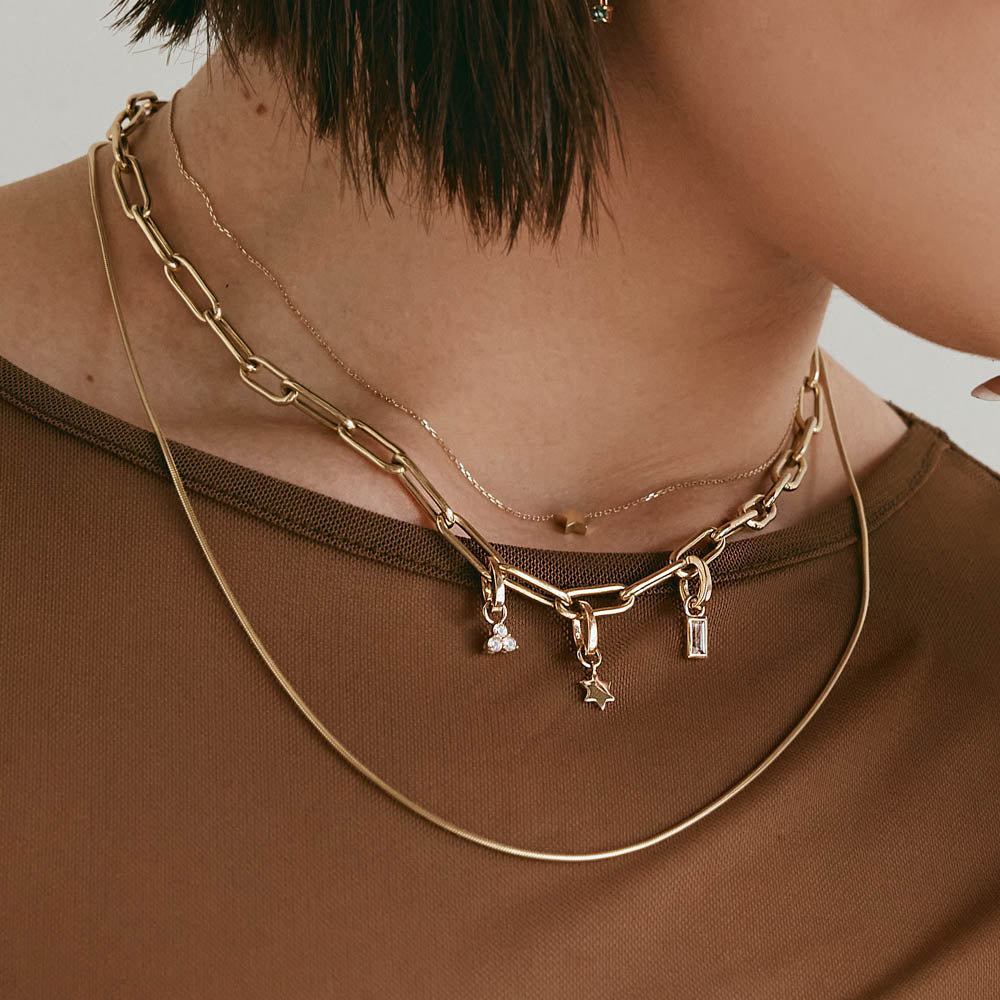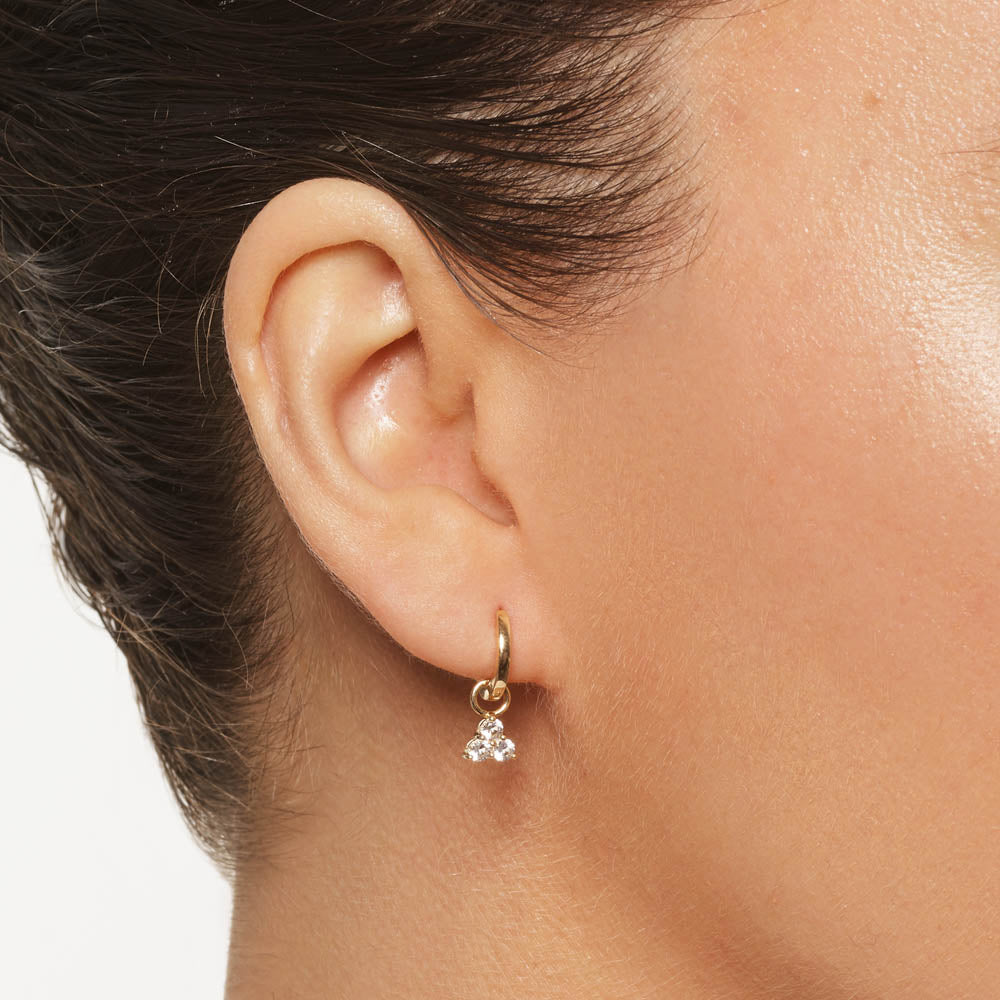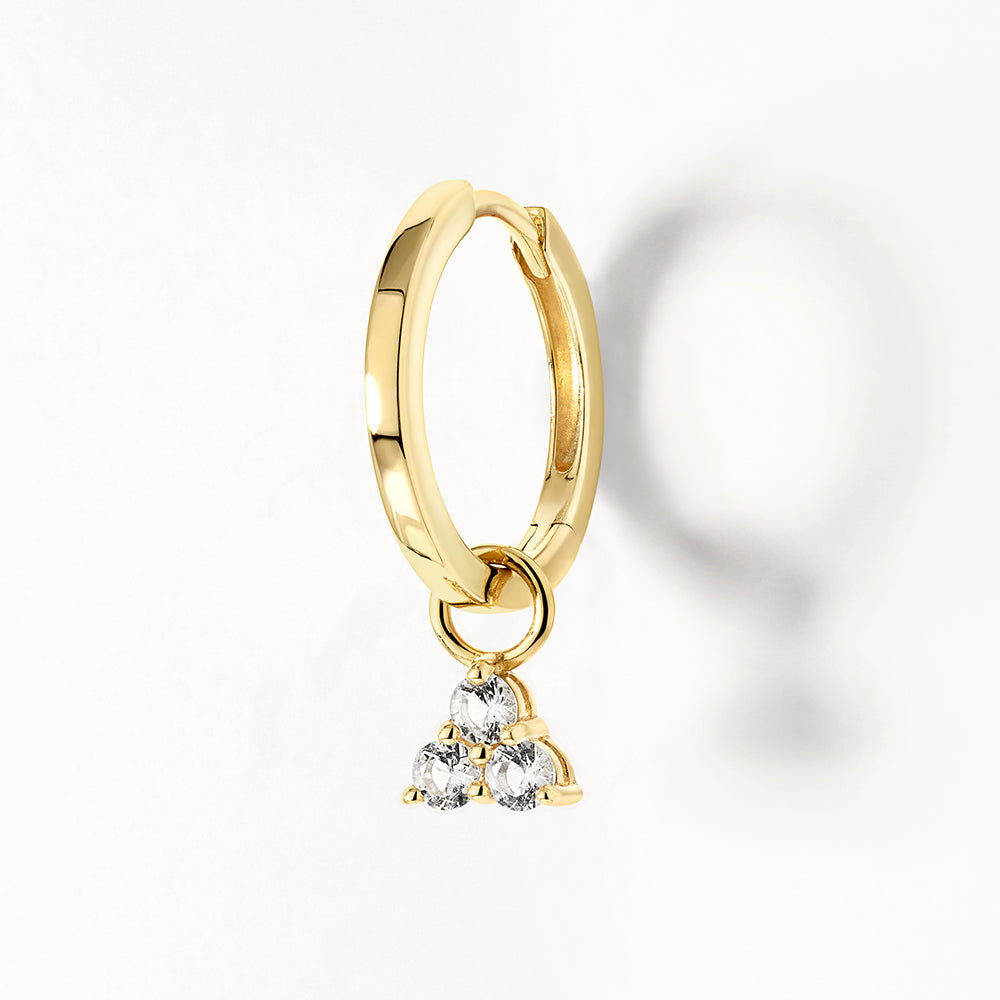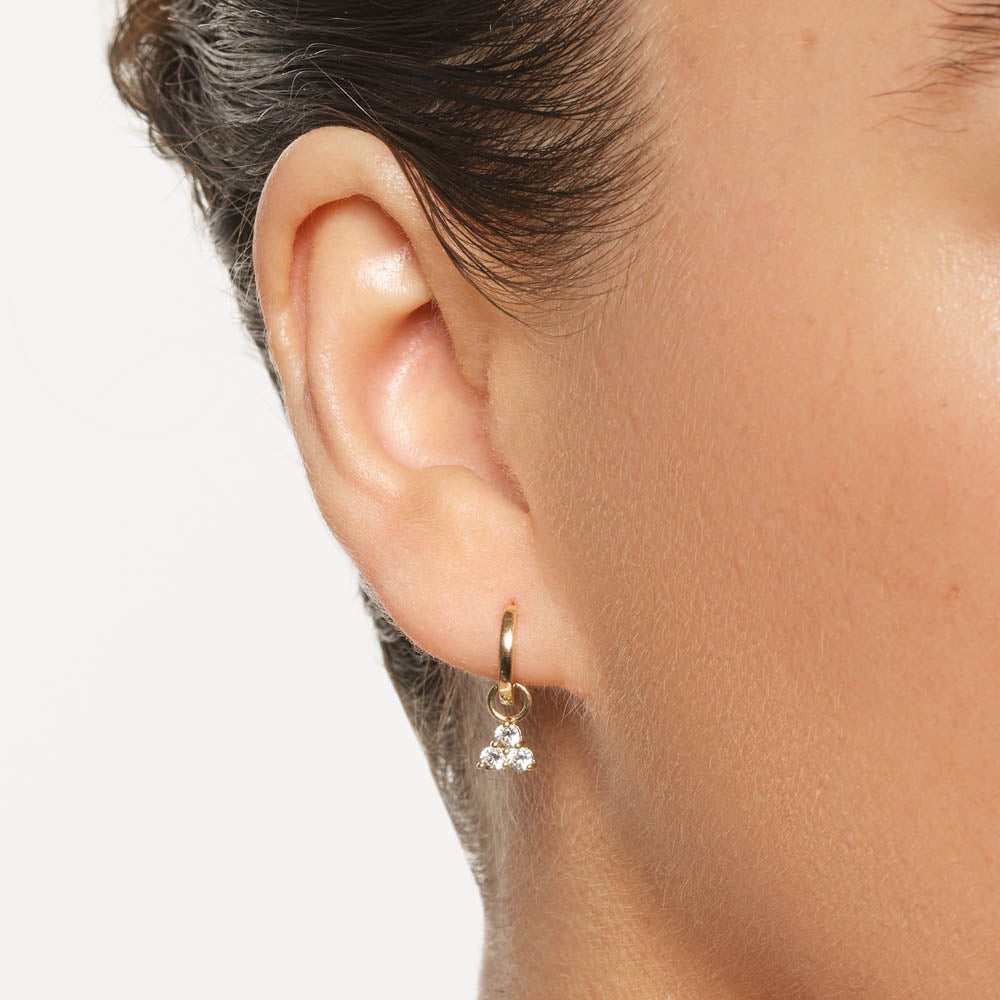 White Topaz Trio Charm in 10k Gold
10k Gold
---
---
Add to your curated ear stack in a way that's on-trend and personalised, with this delicate white topaz charm for your earrings. Sold as a single earring charm, slip this piece onto your favourite everyday hoops to add sparkle, movement, and dimension. Crafted with a trio of natural white topaz stones and set in 10k yellow gold, these hoop charms will work with every look from simple gold hoops to a stacked-up mix of metals and stones.

Charm sold individually, earring not included. 

Returns: Unfortunately, this product cannot be exchanged or returned unless faulty.

Metal: 10k Gold
Earring Dimensions: W 6mm x H 9mm
Earring Thickness: 3mm
Stone Details: Ethically Sourced Natural White Topaz
Stone Count & Clarity: 3 x Round Brilliant Grade Natural White Topaz
Total Stone Weight:
Construction: Solid

Single SKU: 19087276
Pair SKU: M-00000130

Ethically made, certified by the Responsible Jewellery Council.


10k Gold
At Medley Jewellery, our 10k gold jewellery is designed for durability and style. All our 10k gold pieces are stamped with '10k' to mark their authenticity. 10k gold refers to gold that has a purity of 10 karats. Pure gold is a relatively soft and malleable metal, so it's often mixed with other metals to create alloys that are more durable and suitable for jewellery. 10k gold means that the item is composed of 41.7% pure gold and 58.3% alloyed metals, making it more durable and resistant for daily wear.
Topaz
Embrace the vibrant energy of topaz. Available in a range of striking hues, including white and blue, this natural gemstone exudes both sophistication and playfulness, adding a unique touch to your jewellery collection. Each topaz is handpicked for every piece to match colour and clarity. Blue Topaz is the birthstone for December.
RJC Certified
Trust in our RJC certified jewellery, a mark of our commitment to ethical, social, and environmental practices. Each piece embodies our dedication to a sustainable and responsible approach.
- 30 Day Change of Mind Returns (Excludes Sale & Final Sale Items)*
- 3 Month Warranty*
- Designed and Dispatched From Australia
- Free Shipping to AUS on Orders Over $100 AUD
- Free Express Shipping to NZ on Orders Over $150 AUD
- Free Express Shipping to USA, Singapore, Canada, Japan, Italy, France, Germany, Netherlands, Belgium, Spain, Sweden, Malaysia, Hong Kong, China and United Kingdom on Orders Over $250 AUD. Duties and taxes may be applicable on package arrival and charged in addition to international shipping costs.
*See Shipping Information & Returns Policy Pages for More Information.
At Medley, we've worked hard to make our packaging and shipping products as eco-friendly as we can. Our packaging has been designed with both our planet and your new jewellery in mind. All orders arrive in our signature green recycable Medley Jewellery box, crafted with ISO & FSC Eco-Friendly Certified materials. 
At checkout you will have the option of selecting either'Sustainable Packaging'(items packed together where possible) or'Individual Packaging'.
Please Note: Applicable only to multi item orders. Orders will be sent in our 'Sustainable Packaging' option if 'Individual Packaging' is not selected.
For more information on our packaging click here.